Another Side of Seoul:Hongdae's Offbeat Cafes
Another Side of Seoul:Hongdae's Offbeat Cafes
When people think of Hongdae, the popular area near Hongik University, they think of musicians playing in the park, the art scene, night life and unique fashion trends. Being home to many college students and young professionals, cafes have sprung up to provide a place to study, meet up with friends, go on a dates or to even try something new. The standard variety cafes may be the most noticeable at first, but a little exploring in the popular area will uncover many unique and offbeat cafes. We invite you to read on to learn more about some very interesting cafes in the Hongdae area.
The Ggum Cali Café (더꿈캘리 카페)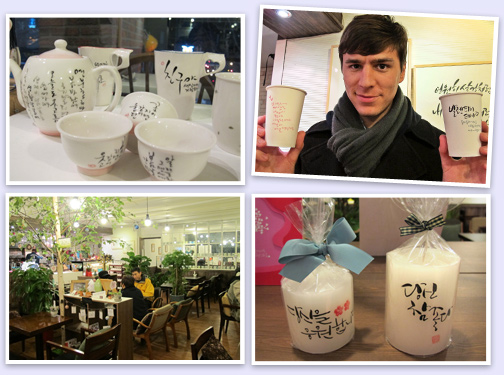 Calligraphy, a dated manner of writing scripts artistically, and Hongdae, one of the top nightlife destinations for young people in Seoul, would, at first glance, seem to be at odds. Calligraphy, though, is found all around us— in advertisements and on book covers and greeting cards. This is why the owner of Ggum Cali Café decided to open this unique cafe. He wanted to share the formative aesthetic of calligraphy in an everyday setting because he thought people tend to think calligraphy is something only for experts and wanted to give everyone a chance to enjoy calligraphy in a relaxing environment. This small hope of his is reflected in the café name, The Gggum ('dream' in Korean) Cali (short for calligraphy) Café.
The cafe hosts an exhibition of calligraphy artwork that changes every two weeks and offers programs like making your own mug, fan and wine label with your own calligraphy and even a formal calligraphy class. The cafe also sells a variety of calligraphy works and engraving pieces available in many forms including jewelry, cell phone accessories, and cups. Making for a perfect gift, each item has an inspiring and cheerful phrase written in an expressive and skillful. We highly recommend you check this cafe out and enjoy one of the many programs they offer or simply to relax amongst the time-honored art of calligraphy.
Address

2F Woodo building, 363-5, Seogyo-dong, Mapo-gu, Seoul-si

Hours

11:00 – 23:00

Tel

02-333-6933

Homepage

http://blog.naver.com/thedream0828 (Korean)

Menu

Americano 3,500 won, Earl grey tea 4,500 won, Mango yogurt smoothie 4,800 won / Calligraphy experience on mug program 30,000 won
a;t fox (에이티 폭스)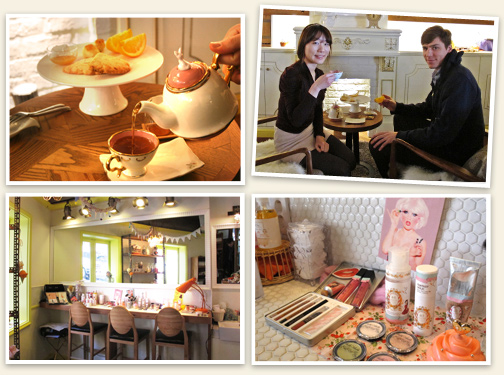 Located just off the main street of the Hongdae area, 'a;t fox' is probably one of a few cafes where you can enjoy a great afternoon tea, dessert, and trendy cosmetics all in one spot. The 'a;t' in a;t fox stands for afternoon tea, and the café gives you the feeling of being invited over to a posh afternoon tea party. The tea is served in antique teapots on ornate dessert trays. Displayed on the walls next to the cozy tables are British style-tea sets and colorful bottles filled homemade tea and syrups.
However, what makes this café stand out is its beautiful powder room fully equipped to allow women to put on make-up and test the cosmetics displayed on the table. The cosmetics are made by the same company as the café, and made with ingredients used to make tea such as jasoyup (perilla frutescens) and tangerine peels, which are known to help with skin problems. Visitors are welcomed to test the shop's popular cosmetics such as black tea mist, moisturizing cream in a cupcake-like container, and jasoyup BB cream. The friendly and knowledgeable staff will assist you while giving you some useful make-up tips. Though having the famous 'The 1st Shop of Coffee Prince' as a neighbor helps, the unique concept and quality products at 'a;t fox' is attracting international and local visitors.
Address

1F Seogyo building, 336-6, Seogyo-dong, Mapo-gu, Seoul-si

Hours

11:00 – 22:00

Tel

02-333-6512

Homepage

http://www.atfox.co.kr (Korean)

Menu

Darjeeling tea 6,500 won, Jasoyup blueberry fizz 7,500 won
MUSTOY (무스토이)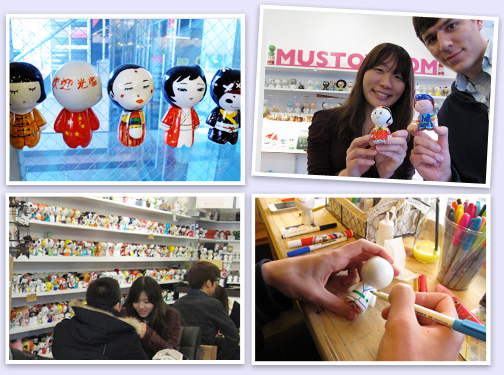 When you first walk in to Mustoy Cafe, you might not even think it a cafe at all. It has a feel of an art studio, the walls covered in past works, patrons diligently managing their crafts and occasionally looking up to check on their partner's creation. The owner of the café, a former TV commercial director, wanted a café that stood out in the artist heavy community of Hongdae.
The café offers the chance to decorate two main characters, the boy 'Muskky' (Mustoy + lucky) and the girl "Musppy" (Mustoy + happy) — both were designed by the same artist who created the popular children's cartoon character Pororo. Muskky and Musppy come in a variety of sizes, shapes and colors to choose from and they even have a salt and pepper shaker model. They also have clothes and other themed accessories you can purchase to add a bit more style to your character.
With the purchase of a character comes a free drink and Mustoy Café provides all the essentials you need to design the perfect Mustoy. Mustoy Café is a great place to take a date or spend the day expressing your inner artist.
Address

1F Caliope, 344-6, Seogyo-dong, Mapo-gu, Seoul-si

Hours

11:30 – 21:30 (closed on Monday)

Tel

02-541-9374

Homepage

http://www.mustoy.com (Korean, English)

Menu

Making your Mustoy 15,000 won (1 drink included)
TOMS Cat Café (톰스캣)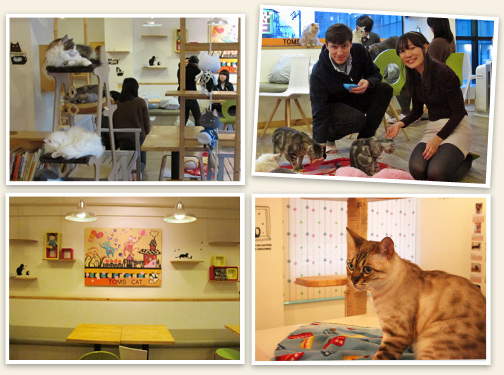 One of the most popular cat cafes in Korea, Toms Cat Café is home to 34 different cats and was opened so the owner could share his love of cats with everyone. Upon entering, guests are asked to change into slippers and clean their hands before playing with the cats. Then you are asked to review the rules, written in English and Korean. Once you have ordered your drink from their relatively extensive menu, you are free to play with the cats for as long as you like. You can even purchase food to have the cats eat out of the palm of your hand!
The interior looks like one big playground for the cats. Cat beds and toys are strewn across the floor. Chairs and tables line the back and windowed walls, while the middle area is slightly open and is the best place for customers to meet and play with the cats.
For your convenience, the café offers a bag to put any articles you want protected from cat hair, and when you leave, they have lint rollers to remove any unwanted hair from your clothes. Even if you are unfamiliar with cats, this café is still a great place to visit as the environment is just as relaxed as the cats.
Address

3F, 358-125, Seogyo-dong, Mapo-gu, Seoul-si

Hours

Weekdays 13:00 – 23:00, Weekend 12:00 – 23:00

Tel

010-8900-0450

Homepage

http://www.tomscat.com/ (Korean)

Menu

Americano 7,000 won, Orange juice 7,000 won (admission included)
Hello Kitty Café (헬로키티 카페)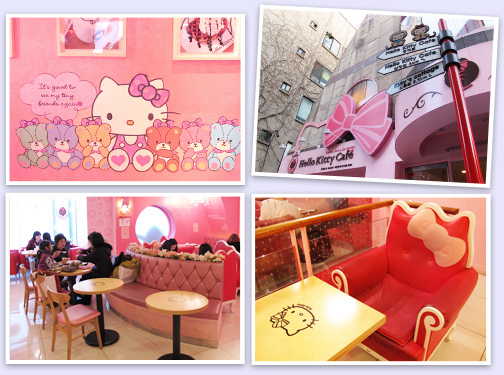 If you happen to see this café with its bright pink exterior decorated with a big bow, you will probably not be able to resist stopping by. Hello Kitty Café is without a doubt one of the most beloved cafés in the Hongdae area. Dedicated to the cutest kitty in the world, the cafe is always packed with fans and those who could not resist the cute décor. Once you step inside the café, you will be overwhelmed by pink and the famous Hello Kitty icon. The walls have big Hello Kitty shaped openings, and at the counter there are a variety of Kitty-shaped desserts on display. Some of the most popular items at the café are the Kitty mousse cake, waffles, and café latte sprinkled with cocoa powder in the shape of Hello Kitty. The café also sells a variety of Hello Kitty memorabilia including Hello Kitty wearing a Hanbok (Korean traditional clothes).
There are many tables in the spacious second floor. The pink couch donned with the Hello Kitty Bow makes for a great place to take a photo. The pink walls and Hello Kitty decorations continue on the second floor and even extend to the bathroom. The majority of visitors are mostly girls from all over the world that come to enjoy this adorable café where there is never too much of Hello Kitty!
Address

18 Wausan-ro 19-gil, Mapo-gu, Seoul,

Hours

11:00 – 24:00

Tel

02-334-6570

Homepage

http://www.hellokittycafe.co.kr/ (Korean)

Menu

Caffe latte: 4,200 won, Hello Kitty caramel waffle: 3,500, Hello Kitty Rare cheese mousse cake: 10000 won
Thanks Nature Café (양카페)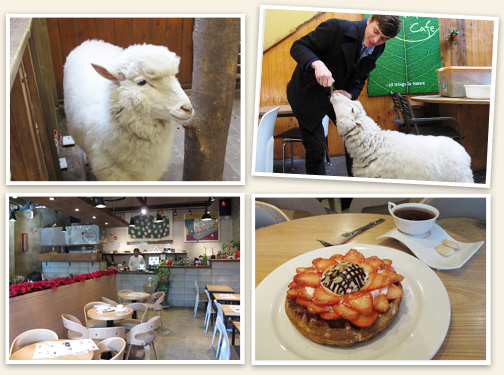 Thanks Nature Café, also known as the Sheep Café, is located close to the main gate to Hongik University's campus. The uniqueness of this cafe is not hard to notice as it is the only cafe in Hongdae where one can enjoy a cup of coffee in the company of sheep. Friendly and approachable, the sheep will let you feed them, making for a great photo opportunity. Its popularity of late is due to the café being featured in a variety of foreign publications in Japan and China and its recent feature on the hit TV show "We Got Married."
The owner of the café said he wanted sheep so that his café would stand out. Though the sheep help, they return to their Gangwon-do farm for the summer, meaning Thanks Nature Café would need something to ensure that customers return. And what keeps customers returning is the delicious food and coffee. Crafted with delicacy and using fresh ingredients, the food is quite good. The coffee, though, is better. Thanks Nature Cafe uses coffee beans exclusively from Terrarosa, perhaps the most famous café in Korea, known for choosing the highest quality of imported coffee beans. The cafe also offers a variety of preparation methods including hand drip and Dutch style. The simple decor, friendly staff and of course the sheep help make Thanks Nature Cafe stand out as a truly unique and enjoyable cafe.
Address

(Seogyo Prugio Apartment store B121) 121 B1, 486, Seogyo-dong, Mapo-gu, Seoul-si

Hours

11:00 – 23:00

Tel

02-335-7470

Homepage

Menu

Americano 3,500, Strawberry waffle 9,000
More Info
Nearby Attractions
Related Column
1330 Korea Travel Hotline
+82-2-1330 (Korean, English, Japanese, Chinese)