Seoul Night Tour – Hongdae
Seoul Night Tour – Hongdae

Hongdae is an area that's full of youthful energy all year round. When the sun sets and the lights come on, things get even livelier, especially on weekend nights. Hongdae is short for Hongik University (홍익대학교, Hongik Daehakgyo) and the area surrounding the university is also generally referred to as Hongdae. The Hongdae area is widely known for its eclectic and artsy vibe, a quality that could be attributed to the influence of Hongik University, which is one of the nation's top fine arts colleges. Step into the Hongdae area to discover its indie spirit, urban arts, and lively culture.
What to see
Hongdae Street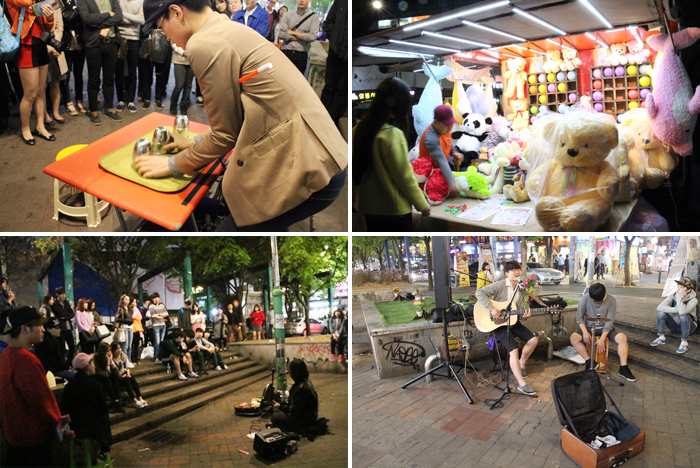 There's never a shortage of fun things to see and do in Hongdae. From watching magic tricks on the streets to playing balloon darts, you're sure to find something entertaining here. Busking is also a common sight in Hongdae. Those walking by are in for a wonderful musical treat as musicians, singers, and performers entertain the crowd with their talents.
KT&G Sangsangmadang Hongdae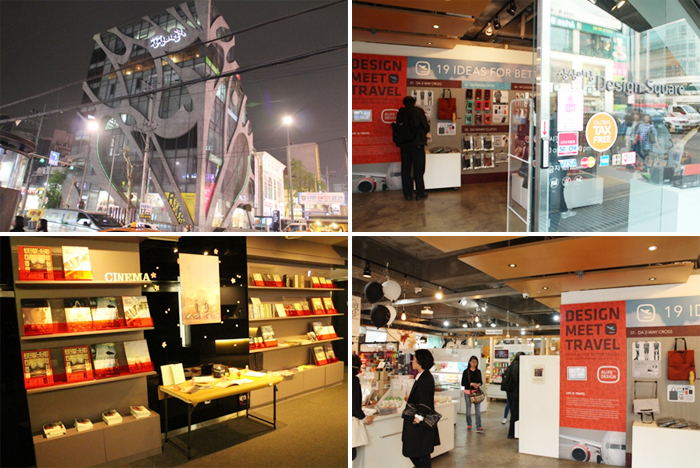 KT&G Sangsangmadang is a multi-cultural space with seven above-ground floors and four basement levels. Each floor serves as a space for different things such as movies, performances, design, visual arts, and cultural education. There's also an art square on the first floor where crafts and accessories handmade by designers are displayed and sold. Take your time exploring each floor to get a glimpse of Korea's art and culture.
More Info

☞ Website: http://www.sangsangmadang.com/english (Korean, English)
☞ Address: Sangsangmadang Building, 65, Eoulmadang-ro, Mapo-gu, Seoul
☞ Directions: Hapjeong Station (Seoul Subway Line 2, 6), Exit 3 – Go straight and turn right at the first major intersection. Follow this road until you see KT&G Sangsangmadang the left.
Where to eat
Outdark

Outdark opened a branch in Seoul after their very first restaurant in Busan grew in popularity. Their specially-cured chicken goes well with their signature fries called Pop or with the tteok-twigim. There are also four different kinds of dipping sauce, all of which can be paired with the chicken, the fries or both.
More Info

Outdark (Hongdae Branch)

☞ Website: http://www.outdark.co.kr/ (Korean)
☞ Address: 19, Wausan-ro 17-gil, Mapo-gu, Seoul
☞ Directions: Sangsu Station (Seoul Subway Line 6), Exit 1 – Go straight and turn left at the corner where 7-Eleven is located. Walk down that alley until you see Outdark on your left
☞ Price: Chicken & beer 25,000 won (for two people)
Bonfire
As the name of the restaurant suggests, dining at Bonfire involves camping and barbecue. Patrons can choose whether to sit inside or outside. During the colder months, blankets are provided at the outdoor seating area. With Bonfire's camping-inspired theme, visitors can sit on camping chairs while grilling meat on the barbecue as if they were out camping.
More Info

Bonfire

☞ Address: 24, Dokmak-ro 5-gil, Mapo-gu, Seoul
☞ Directions: Hapjeong Station (Seoul Subway Line 2 and 6), Exit 6 – Go straight for about 5min and turn left into Dongmakro5-gil. Walk down this road until you see Bonfire on your right.
☞ Price: Samgyeopsal & moksal 12,000 won per person
Where to drink
Joseon Jumak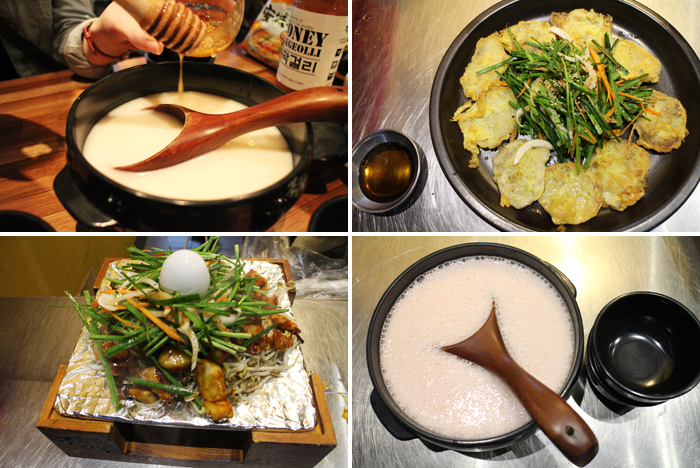 Joseon Jumak has an ambience that exudes an air of luxury and an interior that is clean and modern, characteristics that are quite contrary to the general idea people have when they hear the word jumak (a tavern or inn). A definite must-try at Joseon Jumak is the kkulmakgeolli (honey makgeolli). This alcoholic beverage has a perfect balance of the magkeolli's subtle flavor and the honey's sweetness. The kkulbattal makgeolli (honey, banana, and strawberry makgeolli) is also equally popular, especially among those who want something that's both sweet and sour.
More Info

Joseon Jumak (Hongdae Branch)

☞ Address: 6, Wausan-ro 17-gil, Mapo-gu, Seoul
☞ Directions: Sangsu Station (Seoul Subway Line 6), Exit 1 – Go straight and turn left at the corner where 7-Eleven is located. Joseon Jumak is located in the building next to 7-Eleven.
☞ Price: Kkulmakgeolli 5,500 won/ kkulbattal makgeolli & side dishes around 8,000–18,000 won
Mujigaegwangtaek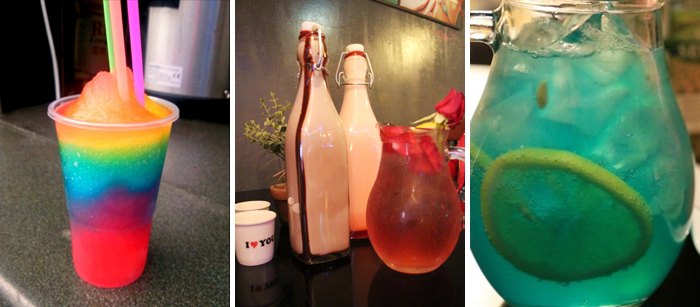 Photo Credit : Mujigaegwangtaek
Mujigaegwangtaek serves a variety of alcoholic drinks made with soju. The colorful beverages are both eyecatching and refreshing while the food selection is diverse. Popular menu items include the rose liquor and the chocolate soju. Mujigae is the Korean word for rainbow and the place does have a lot of rainbow colors all around from the decorations to the drinks. The charming items and accessories inside add to Mujigaegwangtaek's cozy atmosphere, which make it an ideal place to hang out with friends.
More Info

Mujigaegwangtaek

☞ Address: 3F, 11, Wausan-ro 32-gil, Mapo-gu, Seoul
☞ Directions: Hongdae Station (Seoul Subway Line 2), Exit 8 – Walk toward Sanwoolim Theater. Mujigaegwangtaek is located in the alley opposite the theater.
Club Evans

Photo Credit : Club Evans
Casual and cozy, Club Evans is a jazz club that features both aspiring young talents and accomplished jazz musicians. Club Evans is also known for having been featured in several Korean dramas. The proximity of the stage to the tables makes the whole jazz experience more immersive. Regardless of whether or not you're a big jazz fan, you'll enjoy some great jazz performances here while sipping on a cocktail or drinking beer.
More Info

Club Evans

☞ Website: http://www.clubevans.com/ (Korean)
☞ Address: 63, Wausan-ro, Mapo-gu, Seoul
☞ Directions: Sangsu Station (Seoul Subway Line 6), Exit 1 – Go straight until you see 7-Eleven. Club Evans located above 7-Eleven.
☞ Price: Non-alcoholic drinks 4,000 won/ maekju & cocktails 5,000 won/ side dish 7,000 won